T-Shirt Decorating Concessions
Spin-T concessions allow customers to decorate their own tee shirts.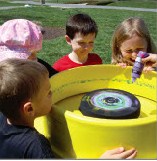 You'll find SpinTee concessions at:
Family Fun Centers,
Craft Shops,
Carnivals and flea markets,
Waterparks,
Campgrounds,
Street fairs,
Restaurants that cater to kids,
On the Boardwalk,
On cruise liners,
And at many other festive places!
Typical charges are $15 for one shirt and multiple shirts for $10 each. As much as $35 per shirt is charged at high traffic locations such as boardwalk and rock concerts.
The Bundle Kit illustrates the business value of SpinTee machines. The package consists of:
Total price $2,575
Total revenue from selling 250 shirts at $15 = $3,750
So, the Tee Shirt Machine Bundle Kit pays for itself and yields an additional $1,175!  Thereafter, the profit per shirt is $11 to $13.