Amusement Parks & Fairs
Amusement parks can create a very profitable new booth with SpinTee.
During a period where family budgets are strained, parents are more likely to indulge in functional purchases. What is more functional than a piece of clothing?
You can easily charge park visitors $20 or more to make their own wearable work of art – SpinTee.com currently sells top quality tee shirts to you for about $3.00/shirt! That's a $17.00 profit per shirt.
Kids love it and parents are happy to be spending money on a take home item that will give them years of use. With SpinTee you allow parents to combine the cost of entertainment with a unique and practical take home gift, and they LOVE IT!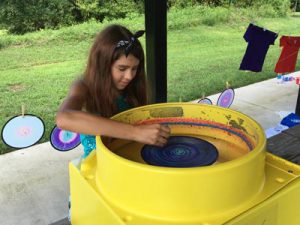 SpinTee.com can provide you with multiple tee shirt art machines along with a convenient dryer that will allow you to serve many customers simultaneously. Discount packages are available for full booth set ups which include SpinTee machines, dryers, shirts, and paint.

  SpinTee sets conveniently on a table or counter for park booth setups.